I started my career in India, back in 2007 in the field of Public Relations. And no, I did not start with Crisis Management. Fortunately, I got to work on international brands like L'Oréal Paris, Maybelline, PUMA, Roberto & Just Cavalli eyewear & more. I enjoyed working in the fashion lifestyle space & my primary responsibilities were client servicing and garnering media coverage.
Getting an opportunity to network with the media across Magazines, Mainline, Electronic and relevant websites worked positively for me. Pitching story ideas, sourcing for fashion & beauty shoots, coordinating interviews at Fashion Weeks was my routine! To some, it might sound fancy but it was a lot of work and I loved every minute of it.
My first encounter with crisis
In Spring/Summer 2008, I recollect representing a Fashion designer at one of the Fashion shows held in India. As we were waiting for our turn, there was a wardrobe malfunction of one of the models that were walking the ramp. That's when I witness the very first 'crisis' firsthand in my profession. Opening a whole new dimension of my profession. The incident did not involve my client, but I kept an eye out for the media coverage. The next day the malfunction news was the highlight of the fashion pages.
Not so crusty
A year passed by and my boss passed on a 'restaurant' for me to work on. I began coordinating chefs' table, food reviews, profiling the chef etc. One morning as I reached work, I saw a negative review in the 3rd most read mainline publication and I almost skipped a heartbeat. The journalist mentioned that the order arrived 30 mins late and that the 'crabs weren't crusty enough'. She also gave the restaurant only a 2-star review!
I called the journalist to investigate the issue and if I could help with a replacement meal. But she mentioned that the day she ordered it was raining profusely and the city had processions due to a Hindu festival. None of these facts were mentioned in her review and I was fuming but maintained composure. Prior to her order, I did send her a pitch email requesting a food review in her publication to which she responded as a policy of the publication they only review restaurants anonymously to avoid any biases while being served. Little did I expect this outcome, there was no corrigendum and the journalist had a reputation for such reviews in the past. Thankfully the client understood the situation and we moved on…
To being a Crisis Management PRO
As years past, I took up a senior role and had the chance to work on additional industries like Travel & Hospitality, E-commerce and Healthcare. My additional responsibilities were handling a team and leading Integrated Marketing Campaigns (IMC).
Finally, in 2015, the day arrived where I had to face my biggest fear, Crisis Management as a major part of my 'Key Responsibility Areas' (KRA)! Mundane routine life gets monotonous to me after a point. And I've always been a risk-taker and dive into challenges. So, I accepted my new role to lead and manage Abu Dhabi's leading airline, Etihad Airways. By now I was averse to the most crisis-prone industries i.e. Aviation, Healthcare, Hospitality, Finances & IT when it comes to frauds and security breaches. All other industries too have their share of mishaps and accidents. However, it's the intensity of those that would define how much into the hot waters the Brand has gotten into.
The agency gave me the opportunity since I had strong media relations given my experience in Travel and Hospitality. Most of these journalists covered aviation as well. I was nervous but also eager to handle crisis at a larger scale. My key strengths that outshine in a Crisis Management role are my organizational skills & having foresight. But most of all being calm and composed during tense situations.
Crisis in Aviation
It was just my first week into my new job and I got a call from the client saying there was a flight delay and we had to inform the media. I prepared a holding statement with the relevant details got the client's approval and disseminated it to the press and online media and the situation was under control. Next, there were cocaine smuggling cases, followed by gold smuggling, a customer misbehaving on the aircraft and the list went on.
The most intensifying situation was when a casket (coffin) was left behind by the airlines' Abu Dhabi loading team. It was sent on another flight to another city in India! The family happened to be related to a local Member of the Legislative Assembly (MLA) who threatened to sue the company. We sent out an apologetic statement and took accountability of the incident since it was indeed the airlines' fault. The local publications issued the story along with our statement and thankfully there were no charges registered. The airlines also paid for all the expenses pertaining to the incident the family had to bear. This may sound hilarious now but at that time it kept me on my toes.
I can only imagine what would have the crisis team handling the missing Malaysia Airlines Flight 370 had to go through back in 2014. Malaysia Airlines had hired a different Public Relations agency to manage the crisis.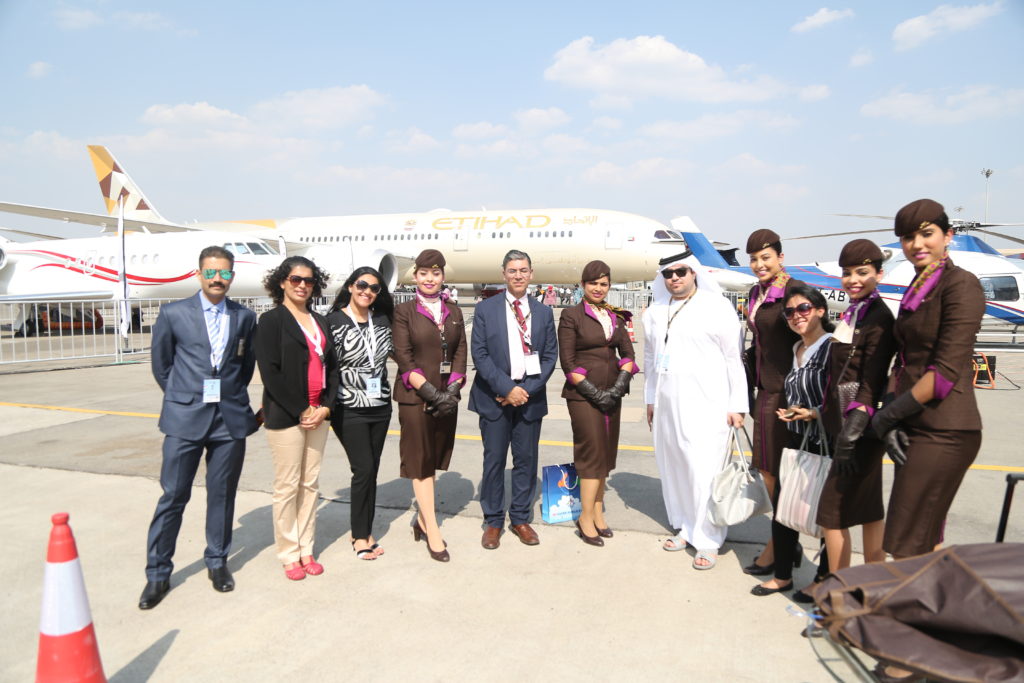 3 Stages of Crisis Management
1. Pre-Crisis:
Preparedness towards a crisis – Documentation, Team, Processes, Media list, Design templates etc.
2. During Crisis:
Adhere to the set processes, Quick factual updates, Decisions on pre-scheduled advertisements, Media and online monitoring
3. Post-Crisis:
Continuing the monitoring of the situation and the news across online and offline outlets. Re-evaluate the entire situation and learn from points and improvise for the next time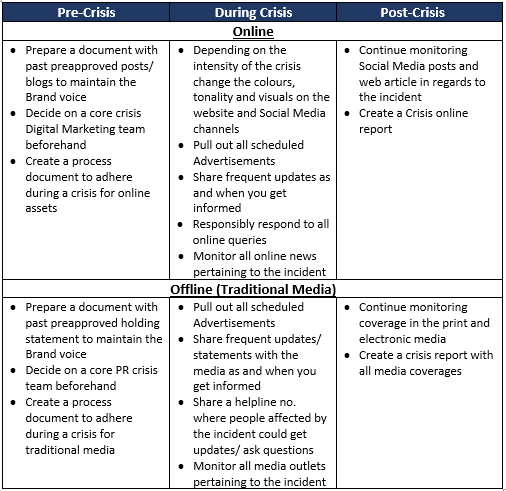 To Conclude
In the last few months, for the first time in history, the entire world is facing a lot more crisis than expected, from the Corona Virus Disease (Covid19) pandemic to Racism with 'Black Lives Matter'. Each government and company are handling both these situations in their own capacity. It's important to address these issues in a genuine manner and not just to join the bandwagon for the sake of 'Trend Jacking'.
Crisis may and will arise any day at any point, there will be no weekends, Christmas, New Years, you may even miss a birthday or important events in your life. Avoid panicking, you have to maintain your composure collect the facts and report to the relevant stakeholders promptly. Diffuse the situation as you are the main 'Firefighter" in this case. Passing on the right information to saving lives can depend on you, but in the end, Crisis Management gives you the greatest job satisfaction & thrill that no other element of your job might be able to suffice. So, don't hesitate and take the plunge as it is worth it! Most of all you won't have a choice. 🙂
To know more contact us and we will be happy to guide you through a crisis you come across in your business.